Water Damage Restoration Services Why It's better to get professional help ?
One heavy down pour, and your home is a complete disaster. Soggy furniture, wet, smelly carpet and everything that comes with a flooded home has ruined your years of planning and designing that perfect home. The first thing that comes to mind is do the water damage restoration yourself, with the help of a couple of buddies. Besides, the Internet's got a chockfull of information about DIY water removal, and damage restoration. Why hire someone else to do it and spend a fortune when you can do it yourself for free, or for a box of pizza and a couple of beers after a tiring day of cleaning up?
Here's why:
It's a lot of work.
When your house gets flooded , water removal and damage restoration is only the tip of the iceberg. Depending on the severity, other services might be needed and these may require professional help: sewage clean-ups, crawl space drying, water extraction, mold remediation, and a whole lot more. So whatever fix you do, it can only provide temporary relief.
The job is done by a team of experts.
Unlike you and your buddies, who probably have not even tried water damage restoration before, these guys are not only trained. They are experienced in areas like these, plus, they follow Standard Operating Procedures to ensure the safety of the water removal and restoration process.

They've got the right tools.
Water removal and damage restoration requires specialized equipment, some of which you might not even know how to operate. That is why it's best to leave it to the experts to do the water removal, damage restoration and other services required, if you want your house or basement smelling as clean and as fresh as it was prior to the flood. Besides, would you even spend thousands of dollars on equipment like these (unless of course you live in a place where it rains a lot, like Houston, TX perhaps)?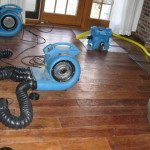 They can dehumidify your home or basement.
It's more than just keeping the windows open. Water removal services make use of dehumidifiers to remove unwanted moisture left behind after the cleanup, thus preventing growth of fungi and mildew in your home.
They do more than just fix what the flood has damaged.
Flooding not only wreaks havoc in your home. Flood water brings about a host of disease causing bacteria and viruses, like leptospirosis and a whole lot more. What flood damage restoration services do is more than just cleaning up and removing all water and moisture. They also handle sanitation after clean-up, thus leaving your home, clean, dry and disease-free.
It puts your mind at ease.
The people you're hiring are professionals, so you know that the job is going to be done right. So you can sit back, relax, and let them do their job. So while doing the flood damage restoration yourself may seem easier on your pocket (on the surface of course), the benefits of DIY flood water elimination and damage restoration is often short-term. There could areas you have overlooked and protocols you have complete missed out (like turning off the main electricity switch), and this can be detrimental. So for your safety, leave water damage restoration to the experts.