Commercial Air Duct Cleaning i

n Houston, TX
Extreme Air Duct Cleaning And Restoration Services 
Dirty air ducts are not only disgusting, but they can also negatively impact on the health of you and your employees. Luckily, Extreme Air Duct is here to meet the commercial air duct cleaning needs of businesses throughout the Houston, TX area.
Why is Commercial Air Duct Cleaning So Important?
Our professional cleaning specialists know firsthand that a clean office is a healthy office. Keeping the air ducts in your commercial building is an important step in ensuring your employees stay healthy and productive.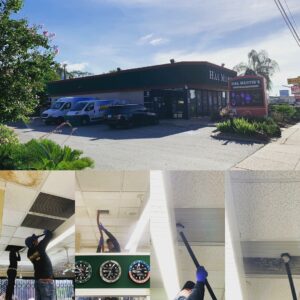 Dirty ducts house viruses and other hazardous bacteria from rodents, insects, and dust mites, all of which can have a negative impact on people's health. The good news is you don't have to subject yourself and the employees in your building to poor indoor air quality. Count on the professionals of Extreme Air Duct for all of your commercial and industrial air duct cleaning needs in the Houston, TX area. Our specialists use innovative equipment, quality cleaning solutions, and distinctive service to get your businesses' air ducts thoroughly cleaned and sanitized.
Our Commercial Air Duct Cleaning Process
Call us to schedule your commercial air duct cleaning service.

Our commercial air duct cleaning technicians will arrive precisely at the scheduled time to conduct an inspection of the air ducts. In addition to assessing the dust and dirt buildup, we'll also check for mold, mildew, and areas of moister and determine the root cause of the issue. We'll also check for signs of rodent or insect infestations.

Our specialists will use high-powered vacuum devices, scrubbers, and other innovative equipment to thoroughly clean your air ducts, allowing fresh, clean air to fill your workplace. You'll notice the difference in air quality right away, and you may even notice a lower energy bill after the job is done, too!
Contact Us for Top of the Line Commercial Air Duct Cleaning in Houston, TX
 The team at Extreme Air Duct is waiting to take your call. If you have any questions regarding our solutions or regarding the importance of commercial air duct cleaning for better efficiency, just ask! We are always happy to answer any questions you may have. We can even provide you with a price quote upon assessing your specific situation. Not only do we offer professional air duct cleaning services in the Houston Metro, we also offer carpet cleaning, dryer vent cleaning and even water damage restoration solutions. We can also set you up on a maintenance plan to prevent dirt buildup and poor indoor air quality. Give us a call today to schedule an appointment and start enjoying the benefits of cleaner air!
Call Extreme Air Duct Cleaning And Restoration Services Today at – 866-599-5992
Some of our recent clients