In Texas,  floods are one of the most dangerous and unpredictable types of weather disaster,  water can arrive in a matter of minutes, and without warning.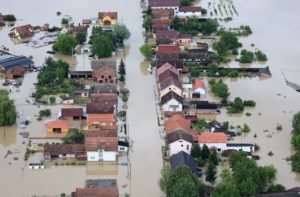 Almost every region of the U.S. is susceptible to flooding and the damage associated with it and here in the Houston area we experience a flood almost every year.
While flood water can cause considerable damage to homes and business. It can level a foundation, ruin expensive appliances and lead to mold growth. Dealing with flood water is dangerous because it contains bacteria and parasites, raw sewage, gasoline and oil. The first step you should take is avoid the wet area as much as possible.
You may want to consider the following safety tips:
When your home is surrounded by flood water, you should make an attempt to escape. The presents of Standing water can cause the foundation of your home or building to collapse.
Try to avoid flood water, especially if it's moving. If you have to make your way through, wear a flotation device and use a walking stick to test the water's depth before you take each step and remember as little as 6 inches of moving water can knock a person to the ground.
Don't attempt to drive your car through flood water, moving water can move a car and even a large SUV.
Wait to get all clear by  your local authorities before returning home.
Don't attempt to move any electrical appliances that are in standing water.It is Safer to turn off electricity at the main breaker before working in a flooded home or business.
Contact a professional drying and restoration company as soon as possible because mold can begin to form in as little as 24 hours. It best to start cleaning and drying out your home as soon as possible.
Never try to relight the pilot light yourself on natural gas consuming appliances as they may flooded during the storm and remember that flood water can damage safety features built in to these appliances. Contact a license plumber or HVAC technician to relight the pilot light.
Anywhere in the lone star state call Extreme  Air Duct Cleaning And Restoration Services to help with your Water Damage Restoration.