Air Duct Cleaning Houston, TX
Extreme Air Duct has Years of Experience Cleaning Air Ducts in the Houston, TX Area
Are you and your family suffering from indoor allergies? Maybe you find yourself getting a little stuffy whenever the air conditioning or forced air heat kicks on. If you find that you are experiencing breathing trouble indoors, it could be time to have your air ducts cleaned. Often overlooked, air ducts accumulate more dust and dander than almost any other surface or area of your home. It's important to maintain a regular cleaning schedule to keep the air in your home fresh and irritant-free. Extreme Air Duct Cleaning can help you maintain clean air ducts, allowing you and your family to breathe a little easier.
Why choose Extreme Air Duct Cleaning?
We have decades of experience in the air duct cleaning business throughout Houston, TX. Our technicians are hand-selected and are dedicated to providing excellent service. Our technicians are also licensed and insured for your peace of mind.  At Extreme Air Duct Cleaning, we're also pleased to offer competitive pricing in addition to top-notch service. If you would like more information on the advantages of working with Extreme Air Duct cleaning, please feel free to give us a call, or fill out the contact form. We would be happy to provide you with any information you need.
Call Extreme Air Duct Cleaning Houston or fill out the form provided– 832-699-0888
About Our Air Duct Cleaning Services in the Houston, TX Area
Want to know what to expect during a service visit? We're happy to fill you in on the details! After making your appointment, a skilled technician Extreme Air Duct Cleaning will arrive at your home right at the scheduled time. Our expert technician will inspect your air ducts to look for built-up dust and dirt and signs of moisture or mold. Your technician will also look for signs of rodent or insect infestations. If there's an issue, we'll help identify the source. We'll then use the latest tools and equipment to thoroughly scrub your air ducts clean. You'll not only notice cleaner, fresher indoor air, but you should also notice a drop in your energy bill! If you have any questions or would like to know more about our process, please don't hesitate to give us a call! We offer free price quotes on any of our services so you can ensure you're getting a fair and competitive rate.
We Also Offer Dryer Vent Cleaning Services!
Cleaning out your dryer vent might not be at the top of your to-do list but it is very important that this task is not overlooked for many reasons. A clogged dryer vent is not only a threat to your home, but also to your life. When your dryer vent is significantly clogged, it can lead to a fire. According to the U.S. Fire Administration and Homeland Security, over 40 dryers per day catch fire in the U.S. Hiring professionals to clean your dryer vents will eliminate this risk.
Not cleaning your dryer can also cause CO2 to build up, can affect the performance of your dryer, can cause an increase in energy bills, and puts extra wear on your dryer. The team at Extreme Air Duct Cleaning Services proudly offers dryer vent cleaning services to those in Houston, TX!
Call Extreme Air Duct Cleaning for Cleaner Air Ducts in the Houston, TX Area!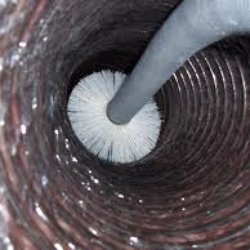 If you're ready to experience the health and savings benefits of clean air ducts, give us a call! We're proud to serve the air duct cleaning needs of businesses and homeowners in the Houston, TX area. For your free service quote, or to schedule an air duct cleaning, please give us a call at the number below!
Call Extreme Air Duct Cleaning Houston, TX now at 832-699-0888